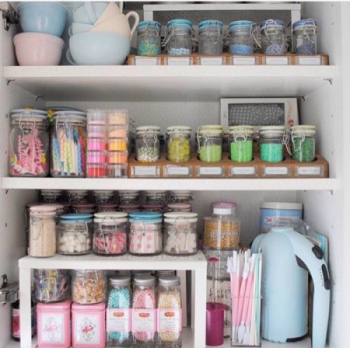 Bring some order into your life with Space of Mine
Published: 08 November 2015 by Knowitall.ch
How many times have you wondered what it would be like if you had more time to organize your belongings and bring some order to your life? How much calmer would you be, if all the unnecessary clutter was removed from your home?
Well, now you can find out!  Virginie Dor, founder of Space of Mine, offers a professional organizing service designed to help individuals take control of their surroundings. Expert in clutter control, work flow, space planning, and time management, Space of Mine uses proven organizing principles to create customized systems and processes for its clients.

In short, Space of Mine specializes in:
Residential organizing/daily organizing:
– Hands-on home organizing (attic to basement)
– Space planning & optimization
– Time management & productivity
Lifestyle changes & transitions/situational disorganization:
– Births & deaths
– Marriage, divorces & blended families
– Career changes
– Limited mobility (aging, illnesses & accidents)
Moving & Relocation:
– Pack, unpack & organize
– Senior move management
Chronic Disorganization:
– Hoarding
– Executive functioning disorders
– ADD, ADHD
– OCD
Asked how she got into the business of organizing, Virginie told knowitall.ch, "Genetics might have something to do with it! Between my father's 30 color-coded sock drawers and my grandmother's uncontrollable urge to rearrange furniture in a doctors waiting room, I was born to do this. I have also moved nationally and internationally over 20 times and enjoyed every minute of it, my last move being to Switzerland in September 2014."
She continued, "As far as I can remember, I have always felt an innate desire to help others one way or another. I have volunteered as a childbirth assistant (Doula), worked with refugee children and am now helping people sort through the chaos of their busy lives."
Virginie started her company in 2012 and has been working as a full-time professional organizer since then. As a proud member of the National Association of Professional Organizers (NAPO), she has had the privilege of studying and working with and for some of the best professionals in the industry.
So what makes Space of Mine different to the handful of other professional organizers in Switzerland? Virginie told us, "What separates me from others in this business is not only my extensive training and experience in the US (where the field originated over 30 years ago), but also the fact that I am the only member of the National Organization of Professional Organizers (in Switzerland, France, Italy and Belgium), which is the international industry authority. Members obey a strict code of ethics, and have access to an extensive network of resources, knowledge and continuing education opportunities. Unlike others, I also offer senior move management services (downsizing, move, relocation, and transition to retirement homes) and cater to individuals suffering from limited mobility and memory impairments. On a personal level, I am particularly attuned to cultures and customs when working with my clients and take it into great consideration."
Virginie's customers range from stay at home perfectionist moms to chronically disorganized elders. Space of Mine is often called upon to make room for a new baby, organize memorabilia, color code a dressing room, move memory impaired elders, rehabilitate the homes of people suffering from reduced mobility, or pack and/or unpack a complete house within 48 hours! Located between Geneva and Lausanne, Space of Mine provides services throughout Europe.
When booking the services of Space of Mine, customers can choose from 3 main options:
1)    Key in hand: Space of Mine takes care of everything for you.
2)    Team work: Everyone works together to get the best results.
3)    Coaching: Space of Mine guides you through the organizing process, but you do the work yourself.
The first organizing session lasts typically 3 hours, followed by further sessions of 3 to 4 hours.
One enthusiastic customer told knowitall.ch, "My husband and I have hired Space of Mine on two occasions, and Virginie over-exceeded our expectations both times! The first time was to help me move to Paris. I had been working in Geneva for 4 years while my husband stayed on our barge (peniche) in Paris. During these years, I had accumulated a good amount of books, kitchen ware, clothing etc.; and my husband had spread out into the little space I had left on the boat. This was going to be a challenging move and I had little to no time to take care of it.  Virginie took over the project and started with the boat. She quickly maximized the storage space we had, rearranged some furniture in ways we would not have thought about and made it a lot more functional and surprisingly spacious. She purchased inexpensive storage solutions such as boxes and baskets. She also taught us great tips and tricks we have now adopted into our daily lives. She literally created space were there was none. Much to my surprise, she was even able to help my husband part with some of his 'junk'. Back in Geneva, she quickly tackled my apartment and within hours (while I was at work), she had sorted, categorized and laid out all of my kitchen, bathroom, interior decor, accessories and office supply in bins and on folding tables she had brought with her. When I got home all I had to do was sit on my sofa while she went through the inventory for each category she had assembled to help me purge.  I never thought it could have been that easy. The letting go and downsizing side of that move was what I feared the most and within hours, a huge weight was lifted off my shoulders. A couple of days later, I was stress-free and moved into what felt like a new home/boat."
She continued, "The second time we hired her services was to help move my mother-in-law into a semi-independent living apartment. Within 48 hours, Virginie was able to pack and unpack her into her new living space. She did it so fast that it truly reduced her stress and discomfort. Before she knew it, she was all settled in. Virginie took great care rearranging the content of every drawer and cupboard to its original place. Although it was a huge change for her; thanks to Virginie, she was able to navigate her way and find some comfort surrounded by her cherished possessions.  Hiring Space of Mine allowed us to turn all our attention to her and support her emotionally though this difficult transition. I can't even imagine what it would have been like without Virginie's help. We have recommended her services to all our family, friends and colleagues since then!"
To encourage more customers to try out her services, Virginie is kindly offering knowitall.ch readers 20% off the first 3 hours of any service booked with her. This offer is valid on any work booked before the end of January 2016. So, if you think your life could benefit from a bit more order, why not give Virginie a call and see how Space of Mine can help you!
Virginie Dor
Space of Mine
079 458 79 72
virginie.dor@space-of-mine.ch
www.space-of-mine.ch